Fundraise for us
Support our Fundraising Raffle!
The funds raised will help us maintain and deliver the key services we offer to people who are affected by Fragile X and their families:
* Counselling support service – provided by our highly experienced counsellor, Liz Jewell
* Fragile X HelpLine – available 5 days per week
* Webinar/Q&A series – educational webinars
*Peer connections and referral program
* Advocacy  – as we work towards ensuring earliest testing and diagnosis and improved supports.
Tickets are available for sale in ACT, NSW, QLD, SA, TAS, VIC.  Not  available for sale in WA or NT, due to regulatory requirements.
Raffle ticket sales close 8 December 2023 and the raffle will be drawn 9 December 2023, at Suite 204 20 Dale Street, Brookvale NSW, 11am.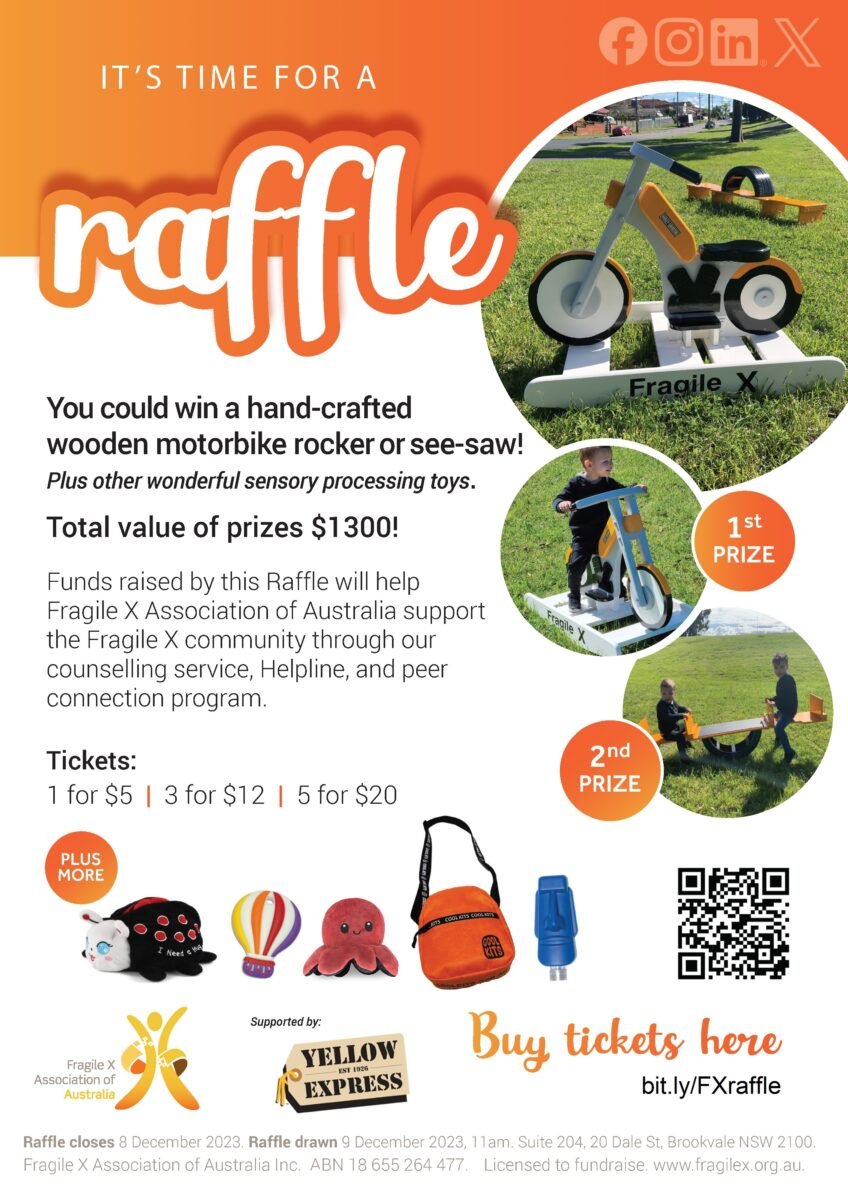 Many thanks to the supporters who have made this fundraising raffle possible.
* Ricky designed & handcrafted wooden outdoor PLAY EQUIPMENT as 1st and 2nd prizes.
* Abby and the gang from CoolKits and Nyleta & Shelley McRae from Chewy Charms  donated awesome SENSORY ACCESSORIES which will help manage stresses and anxiety in everyday living.
And many thanks to our friends at Yellow Express who will deliver prizes to the lucky winners free of charge.
Thank you for your interest in raising funds for Fragile X Association of Australia! Your support will be valued highly.
The funds you raise will help us to support the Fragile X community across Australia: our Helpline which is in place 5 days a week, family support counsellor, information resources, educational events, our website, and our social media groups and platforms.
Contact us to let us know what your fundraising plans and ideas are, and how we can support that with information about Fragile X and promoting your event.
Contact us: 1300 394 636 or by email: support@fragilex.org.au
There have been some amazing fundraisers for Fragile X in all parts of Australia!
Before you can fundraise for us
Before you start to fundraise for us, we will ask you to complete a Fundraising Authority Application, giving details of the event – where, when, and what's involved, and all of your contact details.
We'll then provide you with our Fragile X Association of Australia fundraising guidelines and other information you may need to start your fundraiser. Once your event is approved as a Fragile X Association of Australia fundraiser, you will send you a Fundraising Authority letter, stating that you are authorised to fundraise on behalf of our organisation.
How we can support your fundraising
Fragile X Association of Australia is national registered charity. We have a board of 8 volunteer directors, and 2 staff members: our Executive Director and Family Support counsellor.
Some ways in which we can help your fundraising:
Provide a guest speaker for your event who can talk about their lived or professional experience with Fragile X
Provide printed brochures and other information about Living with Fragile X
Apply for permissions for your use of facilities, in some instances
Provide thank you certificates to the donors who support your event
Provide receipts for donations made to Fragile X Association in connection with your event
Promote the event on our social media or other communications, and to families and contacts in your area
In most instances FXAA cannot pay directly for your expenses, such as deposits for venues or services, or other expenses you incur in organising or conducting the event.
Funds raised
Funds raised for Fragile X Association of Australia must be remitted in full to Fragile X Association of Australia by way of EFT or cheque within 10 days of the end of the event, together with financial records indicating the cost of the event, the goods/services donated made to your event, and any financial donations made direct to Fragile X Association of Australia.
All funds raised through fundraising events and activities for Fragile X Association of Australia will be used to fund the general services and activities provided by the Association, unless otherwise discussed and approved by our Board.
Share: