Podcast: Classroom adjustments for teachers to support students with Fragile X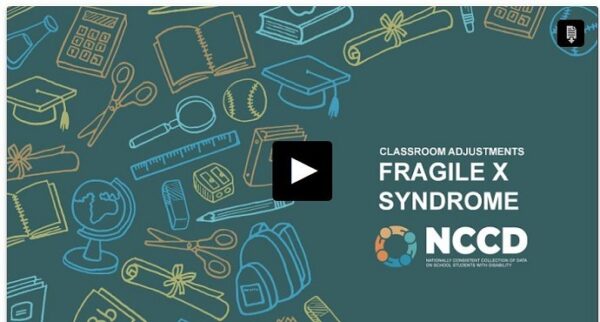 This podcast episode discusses adjustments teachers can make in the classroom to support students with Fragile X syndrome.   It features Jimmy Jones, his teacher Jack, paediatric occupational therapist Beverley Kadish and Jimmy's mother Sarah. The podcast is 25 minutes long, available ONLINE  and soon from Apple ITunes.
Top five takeaways
Students with Fragile X syndrome are likely to have communication and comprehension barriers. So, it's important not to rely solely on verbal interactions and instructions. Visuals are an effective tool that can assist with learning. Use visual schedules on a daily basis to outline key things that will take place throughout the school day, from what subjects will be covered to scheduled bathroom breaks. Preparing students for upcoming transitions can help to reduce their anxiety. Also, visuals can be used to outline step-by-step instructions so students can see what they need to do next.
When giving instructions, show students what you want them to achieve. Once you show them the end result and they can see the bigger picture, chunk the task into small segments and demonstrate how to get the same outcome using a checklist. Give one-step instructions and cross off each item from your list as the student completes the corresponding task. Before moving on to the next task, allow  the student adequate time to process your instructions, as students with Fragile X syndrome may require  extra response time.
Students with Fragile X syndrome may find handwriting difficult. To help build basic handwriting skills, you can different strategies, such as using modified pencils with stoppers at the end or the co-active writing technique, where students place their hands over the top of yours while you guide them through the letters. You can also use sensory tactile techniques where you might ask the student to write letters in something like shaving cream.
Most students with Fragile X syndrome will have some level of difficulty in sensory processing. It is important to do an environmental check of the classroom and take steps to reduce levels of noise and visual overload. Further to this, ensure that the student is not seated in high traffic areas, such as near doorways or open windows. Also, position them away from air-conditioners and heaters and if required, provide the student with noise-cancelling headphones.
Students with Fragile X syndrome may experience anxiety. To help reduce anxiety levels, allow the student time to regulate their emotions and provide a safe space in which they can self-regulate. This might involve sitting on a bean-bag or some cushions, or sitting inside a small tent, a large box, or a quiet corner of the library. Some students may want to play with sensory items or listen to music. Allow them to choose the activity that is going to help them settle down, but set time limits, so they know when they are expected to return to the learning environment.
This podcast, released in November 2019,  is part of a series that highlights adjustments that can be made in the classroom to enable students with disability to access and participate in education on the same basis as their peers.   It was produced for Nationally Consistent Collection of Data on School Students with Disability (NCCD), a federal government initiative, and commissioned by the Victorian Department of Education with Education Services Australia.
Share: