Webinar | Sensory Processing and Fragile X syndrome, 29 June 2023 8pm AEST
Sensory processing dysregulation is so common for children and adults living with Fragile X syndrome and it presents real challenges for behaviours and daily living.
Bev Kadish will talk us through strategies to help give them the best chance to feel calm, alert and organised as a result of appropriate sensory input.
Bev's a regular presenter in our #fxwebinar series. It's great to have her back, sharing the expertise she's gained in working in her own private practice Write Start Occupational Therapy and at the Fragile X Alliance Clinic in Melbourne.
Register now to join us LIVE or LATER – although please note that the Q&A discussion is in the LIVE event only, not the recording.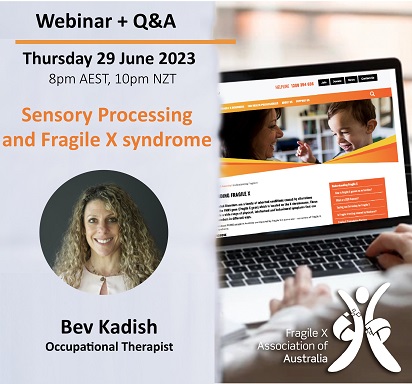 Share: