Webinar/Q&A 7th December: Communication supports for low/non-verbal individuals with Fragile X syndrome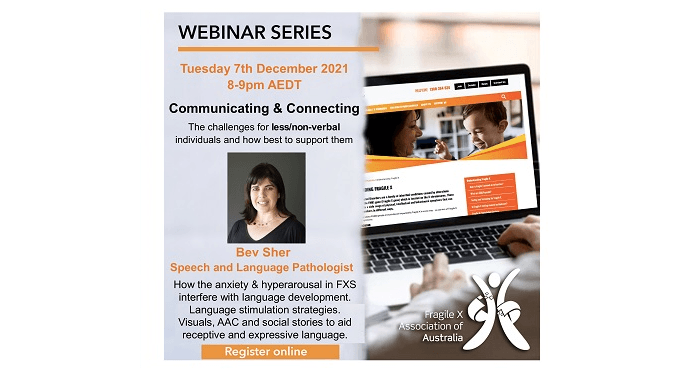 In this second webinar/Q&A on COMMUNICATING AND CONNECTING speech and language pathologist Bev Sher discusses the challenges those who have low level verbals skills or are non-verbal.
This session will be wide-ranging, reflecting the depth of Bev's experience in working with children and adults who have Fragile X syndrome.
It will cover: the difference between speech and language; how Fragile X-specific presentations such as trait anxiety and hyper-arousal interfere with language development; motor speech difficulties such as dyspraxia, the importance of parent responsiveness for language stimulation; how visuals and Augmentative/Alternative Communication can aid comprehension as well as expression; optimising hearing and oral motor development; using social stories to support receptive language; and the relationship between speech and feeding difficulties.
Date and time:  Tuesday 7th December, 8-9pm ACT/VIC/NSW/TAS, 7:30pm SA,  7-8pm QLD, 5pm WA|
Share: