Seminars: Supporting Children & Young People who have Fragile X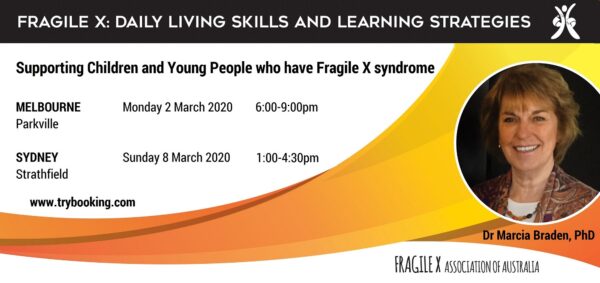 MELBOURNE                                                                            SYDNEY
Book Online                                                                               Book Online 
Monday 2 March 2020, 6-9pm                                             Sunday 8 March 2020, 1:00 – 4:30pm
Vernon Collins Training Room                                                       Murray Hall, Building 613
Royal Children's Hospital                                                     Australian Catholic University 
50 Flemington Rd, Parkville                                                           25A Barker Roard, Strathfield
TICKET SALES CLOSE  Monday 2 March 1pm              TICKET SALES CLOSE 6 March 5pm
This is a great opportunity to take part in a seminar with Dr Marcia Braden. Dr Braden is an educational psychologist and former educator who specialises in educational strategies and behaviour support for children and adults who have Fragile X syndrome, autism or developmental delay.
It's a pleasure to welcome Dr Braden to Australia once again, and she is well known to many Fragile X families from previous visits.
Dr Braden will focus on supporting children and young people who have Fragile X syndrome:
o  Daily living skills
o  Understanding anxiety in Fragile X
o  The Fragile X learning style
o  Fragile X and girls
Dr Jonathan Cohen, medical director of the Fragile X Alliance Clinic in Melbourne will provide an overview of the latest in medications.
The seminars will be ideal for:
o  Families
o  Educators, health professionals and everyone who has an interest in supporting a child or young person who has Fragile X syndrome.
Tickets:       $35     Member of Fragile X Association of Australia (2 tickets for $60)
                       $55     Standard ticket
                       $15     Student
These seminars have been kindly supported by Zynerba Pharmaceuticals.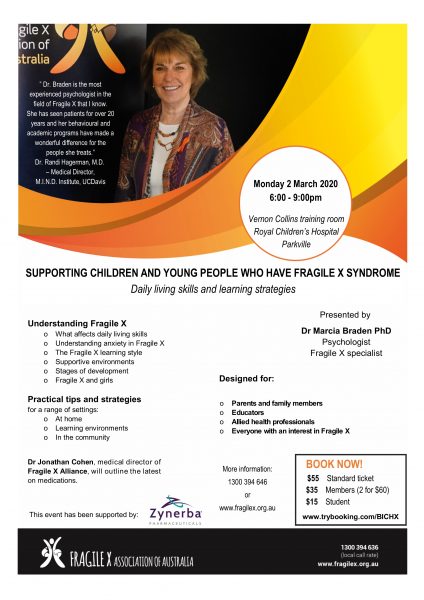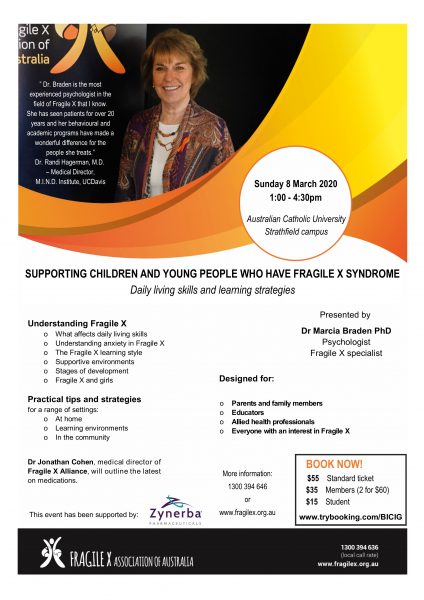 Supporting Children_Dr Marcia Braden_Sydney_Flyer             Supporting Adults_Dr Marcia Braden_Melbourne_flyer
MELBOURNE            Book Online
Monday 2 March 2020, 6-9pm
Vernon Collins Training Room
Royal Children's Hospital
50 Flemington Rd, Parkville
SYDNEY                   Book Online 
Sunday 8 March 2020, 1:00 – 4:30pm
Murray Hall, Building 613
Australian Catholic University
25A Barker Road, Strathfield
Prof Randi Hagerman, paediatrician and leading expert in Fragile X, says:
"Dr Braden is the most experienced psychologist in the the field of Fragile X that I know. She has seen patients for over 20 years and her behavioural and academic programs have made a wonderful difference to the people she treats."   Dr Randi Hagerman, director, MIND Institute.
Share: