Seminars in March 2020: Supporting Adults who have Fragile X syndrome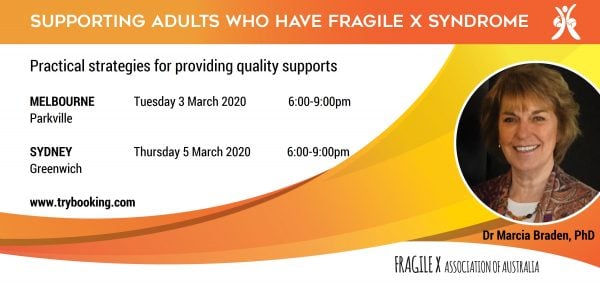 Rare opportunity for disability support providers and family members to hear from international Fragile X expert, Dr Marcia Braden PhD. Dr Braden is a psychologist who has worked with children and adults who have Fragile X syndrome, developmental delay and autism for over 25 years.  Dr Braden is from Denver, Colorado, and will be in Australia as a guest of Fragile X Association of Australia.
Some adults who have Fragile X syndrome have complex and unique support needs which may change over time.
The delivery of high quality supports will often rest on a carer or service provider's understanding of Fragile X syndrome, including:
o  Daily living skills: factors which impact the daily living skills and learning style of an adult who has Fragile X syndrome
o  Behaviour supports: key positive behaviour management supports
Understanding Fragile X
These seminars cover the core knowledge needed to develop positive supports:
o   Behaviours
o   Factors that affect daily living
o   The Fragile X learning style
o   Anxiety and hyperarousal
o   Independence
o   Ageing
o   Supportive environments
Dr Braden will share practical tips, best practice and takeaways for providing quality supports in a range of settings:
o  living at home
o  in supported accommodation
o  in a workplace
o  in the community.
These seminars have been designed for:

*  Support and service providers: anyone providing or overseeing support and service delivery, such as frontline workers, frontline managers, service delivery managers, team leaders, clinical leads and clinical staff,  and support coordinators.
* Family members who support an adult with Fragile X syndrome.
The seminars will  include a Panel discussion and Q&A.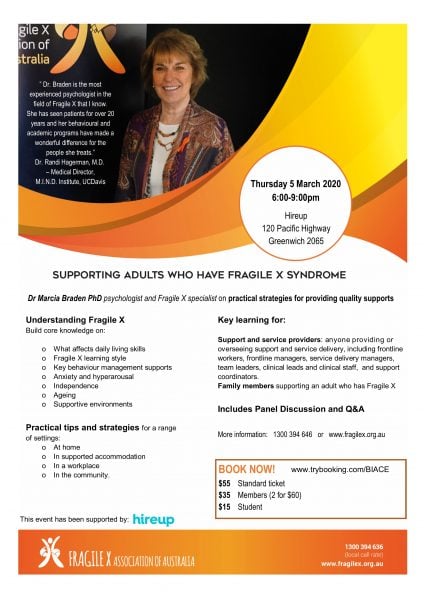 Supporting Adults_Dr Marcia Braden_Melbourne_flyer             Supporting Adults_Dr Marcia Braden_Sydney flyer
MELBOURNE     Book Online
Tuesday 3 March 2020, 6:00-9:00 pm (light refreshments from 5:00pm)
Vernon Collins Training Room, Royal Children's Hospital, Parkville
BOOKINGS CLOSE Tuesday 3 March
SYDNEY                Book online
Thursday 5 March 2020, 6:00-9:00 pm (light refreshments from 5:30pm)
Hireup, 118-120 Pacific Highway, Greenwich
BOOKINGS CLOSE Thursday 5 March
In the Melbourne seminar Dr Jonathan Cohen from Fragile X Alliance will provide an overview of medical perspectives in the care and support of an adult who has Fragile X syndrome.
Tickets:      $55 Standard ticket
                     $35 Members of Fragile X Association of Australia  (2 tickets for $60)
                     $15 Student
Book online from 29 January 2020 via TryBooking:
Queries:   contact Wendy Bruce, 02 9907 2366 or email wendy@fragilex.org.au
Testimonials:
" Dr. Braden is the most experienced psychologist in the field of Fragile X that I know. She has seen patients for over 20 years and her behavioral and academic programs have made a wonderful difference for the people she treats.
Dr. Randi Hagerman, M.D. – Medical Director of the M.I.N.D. Institute"
"As far as Australia is concerned, Dr. Braden is the internationally acclaimed expert on educational and psychological issues in Fragile X Syndrome. She has provided private clinical sessions and presentations to large numbers of families and professionals on multiple occasions, in which she focused on practical day to day issues including living skills, social skills, vocational issues, independence and relationships. Her extensive clinical experience enables her to cover children and adults of both genders and all ages. Dr. Braden has that rare ability to impart professional wisdom with empathy and that is greatly appreciated by all of us."  Dr Jonathan Cohen MD, Fragile X Alliance Clinic (Melbourne). Written on behalf of families and workers in Fragile syndrome.
Share: