FX Webinars 2022 Update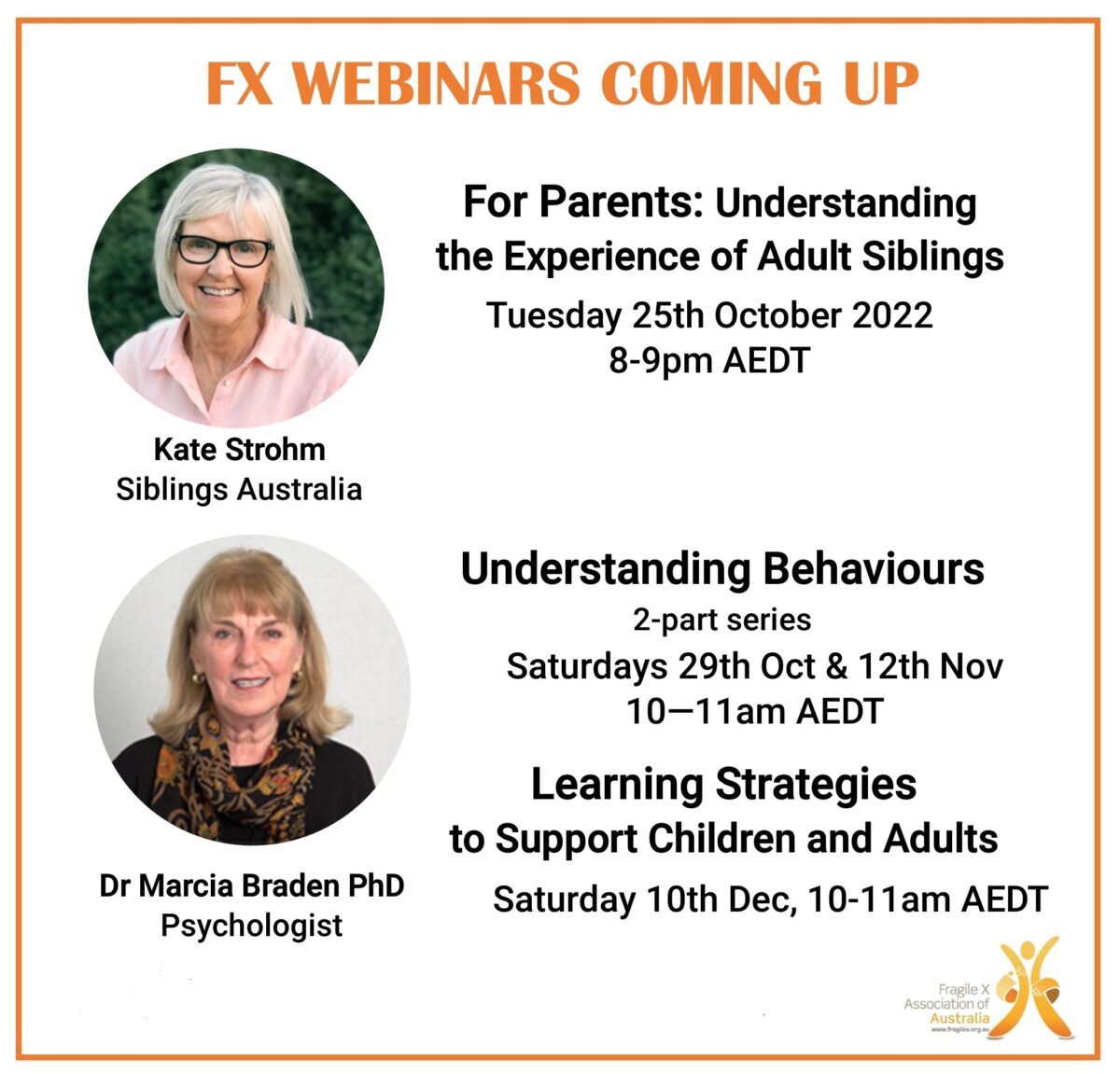 For Parents: Understanding the Experience of Adults who are Siblings | Tuesday 25th October 2022, 8pm AEDT
This session aims to help parents to understand the experience of their adult children who are siblings to a person with Fragile X syndrome. It will cover:
• The impact of childhood experiences  • Communication within the family  • Thinking about the future and different family roles
REGISTER TO ATTEND | https://bit.ly/FXwebinar_ForParentsofAdultSiblings
About Kate: Kate is the founder/CEO of Siblings Australia. She has developed a national and international reputation for her work with families and practitioners, research and advocacy over a period of 23 years. She brings both personal and professional experience to this presentation.
Understanding Behaviours and Fragile X |Saturday 29 October 2022 AND Saturday 12 November
Fragile X syndrome presents with unique neurobiological underpinnings that affect behaviour.
In the first session Dr Braden examines behavioural responses resulting from neurobiology which can often manifest in observable physical aspects such as facial redness, increased movement, and cluttered speech. Understanding the specific areas in the brain affected by Fragile X syndrome allows for affective programming and strategies for daily living.
REGISTER TO ATTEND | https://bit.ly/FXwebinar_Behaviours_1
Being aware of the neurobiological underpinnings of Fragile X syndrome prompts affective programming and sound behavioural strategies.
In the second session Dr Braden explains why traditional behaviour intervention does not often bring success in reducing difficult behaviours. She will carefully construct a number of strategies using videos to showcase successful intervention. The ABC's of behavioural observations will be presented and discussed. An understanding of how antecedents as well as consequences may, in fact, contribute to the behaviour rather than help reduce it is essential to good programming.
REGISTER TO ATTEND |  https://bit.ly/FXwebinar_Behaviours_2
Learning Strategies to Support Children or Adults who have Fragile X  | Saturday 10 December 2022
Dr Braden will outline practical strategies to support lifelong learning in Fragile X syndrome, for children and adults, in a range of settings – school, vocational educational settings, community settings and workplaces.
REGISTER TO ATTEND | https://bit.ly/FXwebinar_LearningStrategiesChildrenAdults
About Dr Braden:   Marcia is a licensed psychologist and specialist in Fragile X syndrome and autism spectrum disorder. She is a regular presenter internationally and for FX Australia and FX New Zealand, both in person and online.
Acknowledgment:   The three webinars presented by Dr Braden are supported by an educational grant from Zynerba Pharmaceuticals
Share: