Fragile X | Understanding Behaviours. Two webinars with Dr Marcia Braden
We are thrilled that psychologist Dr Marcia Braden PhD will join us live from the US to present three webinars in late 2022.    Dr Braden is a US-based licensed psychologist known internationally as a specialist in Fragile X syndrome and autism spectrum disorder.

A two-part series will provide a detailed discussion on Behaviours and Fragile X syndrome. This series is a "must watch" for parents, caregivers, therapists and teachers.
In the first part of the series on Saturday 29 October Dr Braden examined behavioural responses resulting from neurobiology which can often manifest in observable physical aspects such as facial redness, increased movement, and cluttered speech. Understanding the specific areas in the brain affected by Fragile X syndrome allows for effective behavioural support strategies to be developed.  The RECORDING of this webinar is online 
In the second part on Saturday 12 November Dr Braden explains why traditional behaviour intervention does not often bring success in reducing difficult behaviours. She carefully constructs a number of strategies using videos to showcase successful support strategies. The ABC's of behavioural observations are presented and discussed. An understanding of how antecedents as well as consequences may, in fact, contribute to the behaviour rather than help reduce it is essential to good programming of strategies.
REGISTER HERE FOR PART 2, SATURDAY 12 NOVEMBER 10-11am AEDT:
https://us02web.zoom.us/meeting/register/tZMufu-oqjwtEtxwOSNIHWpD8wTqK0ngUJy_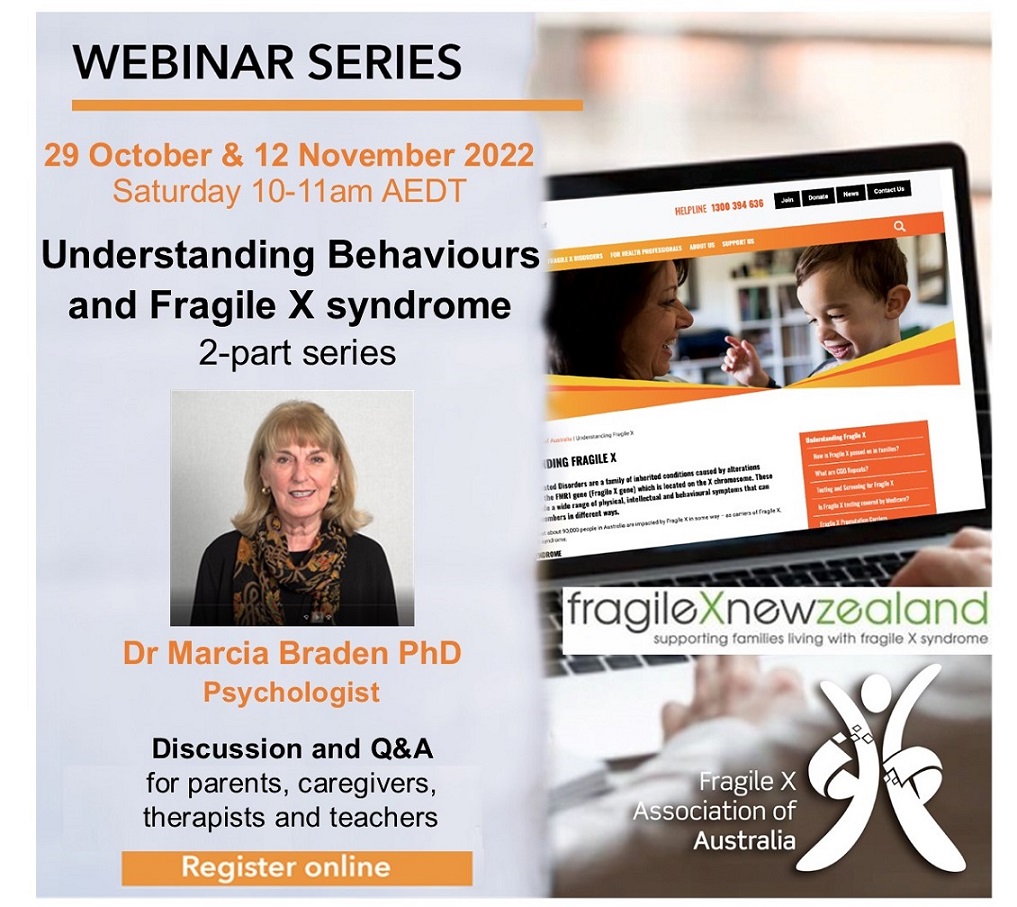 Share: