Fragile X Information Day, Brisbane 1 November 2017
We are delighted to host a Fragile X Community Day in Brisbane on Wednesday 1st November, 2017.  This is a really unique opportunity to get together, and to hear from the latest from experts Dr Marcia Braden, educational psychologist from the US, and Dr Jonathan Cohen, medical director of Australia's only FX-specific medical clinic, Fragile X Alliance Clinic.
This event is for EVERYONE with an interest in Fragile X – families, carers, education professionals, disability service providers.
Update on Fragile X conditions
Health perspectives for carriers of Fragile X
The latest in research
Education  and learning:  strategies to incorporate and support the Fragile X learning style
Daily living strategies: understanding behaviours in individuals with FX; supports and interventions that work
Interactive session on anxiety in Fragile X syndrome.
Discussion panel.
Morning tea & lunch provided.  And Free Parking at the venue.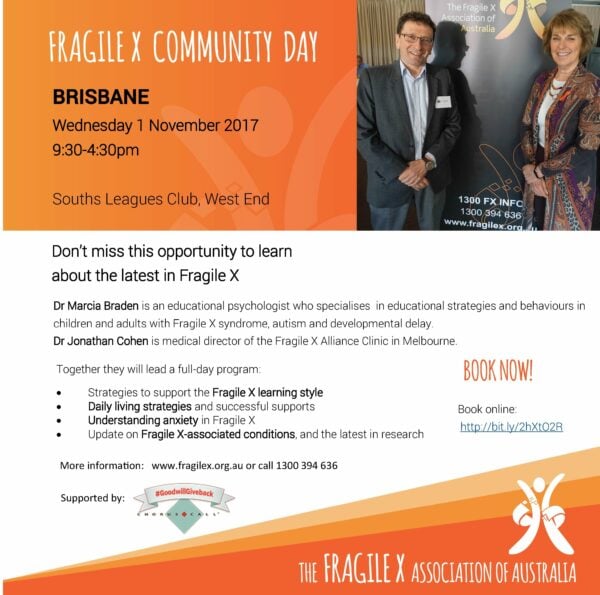 TICKET PRICES

MEMBERS OF FRAGILE X ASSOCIATION

$85 per member of Fragile X Association of Australia
$145 for 2 people (FXAA member plus 1)

NON-MEMBERS OF FRAGILE X ASSOCIATION
$120 for individuals
PROFESSIONALS 
$185 for health, disability and education  professionals
Share: