CONNECT-FX trial open to 29 November 2019
Enrolments open until the end of  July 2019:
The CONNECT-FX study is running in Australia, New Zealand and the US, to study an investigational drug in gel form called Zygel, manufactured by Zynerba Pharmaceuticals.
The aim of the study is to determine whether Zygel can help manage some common behavioural symptoms associated with Fragile X syndrome, such as anxiety.
Zygel is a pharmaceutically produced CBD, a non-psychoactive cannabinoid, which is applied as a gel to the skin.  CONNECT-FX is a placebo-controlled trial, and folllows a smaller trial conducted in Melbourne, Sydney and Brisbane in 2017.
The current study hopes to recruit  approximately 200 participants aged between 3 and 17 across Australia, New Zealand and the US.
There is more detailed information on the trial, on the National Fragile X Foundation (US) website: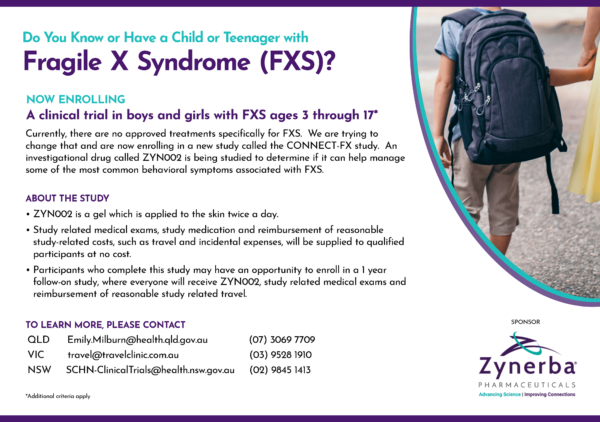 Trial contacts in Australia:
MELBOURNE:   Dr Jonathan Cohen, Fragile X Alliance Clinic, 03 9528 1910.   travel@travelclinic.com.au
SYDNEY:  Dr Natalie Silove, Westmead Children's Hospital, 02 9845 1413.  SCHN-ClinicalTrials@health.nsw.gov.au
BRISBANE:   Dr Honey Heussler  07 3069 7709   emily.milburn@health.qld.gov.au
Share: